Debt Ceiling Insanity
A recent CNN poll suggests that most Americans are confused about the debt ceiling crises that erupt in Congress. The most recent crisis occurred in early 2023 but others occurred in 1995, 2011, 2013, and 2021. Each time these occur, the U.S. government is in danger of default and having its credit rating reduced. Yet, the crisis is entirely manufactured by a political party.
Although it's a poor idea to try to explain federal government debt by comparing it to your household finances, an imperfect analogy will still demonstrate the lunacy of these debt ceiling crises.
Suppose you and your spouse put all your purchases on your credit cards. This includes paying the water, electric, and cable TV bills. When the credit card bills arrive, you pay them before they're due to avoid the steep finance charges.
A few months ago, you argued with your spouse about adding the sports package (ESPN) to your cable TV. Your spouse reluctantly agreed but wasn't happy about it. This month, your spouse insists that the credit card bill will not be paid until you remove ESPN. You don't want to remove it, so the credit card bill goes unpaid, and the steep finance charges are applied to your next bill.
Your spouse's refusal to pay the bill didn't reduce your spending—it increased it. And so it is with the U.S. Congress debt ceiling crisis. It's a way for a party to try to force the government to cut spending for things Congress has already agreed upon. It's undemocratic. It harms the country. It increases the political divide.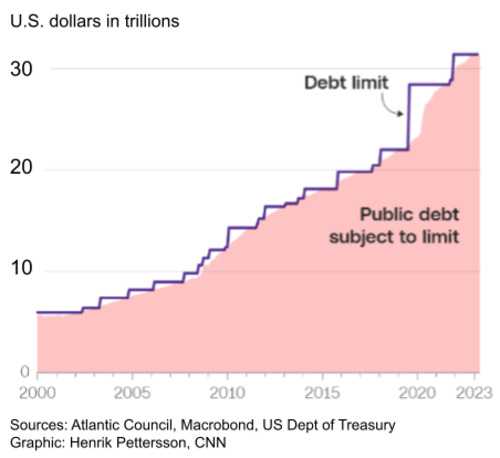 The 2023 crisis resulted in the country's credit rating being downgraded from "AAA" to "AA+" by Fitch Ratings company. This will increase the government's interest rate for future loans and may add billions to the national debt. The reason Fitch gave for the downgrade was "repeated debt limit standoffs and last-minute resolutions." Fitch did not downgrade the rating principally because of the size of the national debt, as was claimed by one political party.
Do other countries have a debt limit issue that their legislatures must deal with? No. All other countries have either no limit on their debt or a limit set very high so their spending seldom comes close to the limit.
The graph shown here illustrates the problem with the U.S. debt limit. The limit is set at or very close to actual spending. As spending increases by even small amounts (because the population of the country is increasing, for example), the limit is easily exceeded.
In his Politico article titled "The debt limit is a loser's game", Ben White has this suggestion for Congress: "Crumple up the debt limit, stuff it in the garbage and govern like grown ups."