Joseph Robert "Bob" Daley Jr. obituary
This information is from the The Leader website.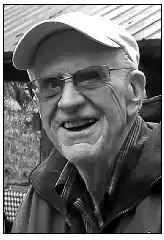 Photo: Joseph Robert "Bob" Daley Jr.

Port Townsend, Washington Nov. 20, 1932 - Aug. 23, 2014

Pilot, experimental-aircraft builder, boat maker, and beloved husband, father and friend Bob Daley passed away in Port Townsend on Aug. 23, 2014 at the age of 81. A native Washingtonian, Bob was born in Seattle on Nov. 20, 1932 to Joseph and Vera Daley. He graduated from Foster High School and attended the University of Washington. He met his wife, Jan, while they were both working for United Airlines, and they married in 1957. Bob served as a firefighter in the U.S. Navy during the Korean War and took advantage of the G.I. Bill to get his pilot's license. He was both a commercial and recreational pilot, which included a year as a bush pilot in Homer, Alaska. Bob loved to fly and was a fixture at the Jefferson County International Airport. He even had a house built nearby that gave him a view of the arriving and departing planes. He was actively involved with the local Experimental Aircraft Association chapter, helped expand the number of hangars and advocated paving the original grass runway to make the airport safer.

Bob was a dedicated father to daughter Darcy and son John, and always made their swim meets, gymnastics competitions and school activities a priority in his life. He instilled in them his love of fun and adventure, which usually involved finding out what was at the end of a dirt road in the middle of nowhere.

In 1979, Bob took an early retirement from Boeing and moved from Covington, Washington, to Port Townsend, where he and Jan opened Olympic Greenhouse. They sold the successful business in 1994, and Bob retired once again. He spent his time traveling with Jan, flying, having coffee at the airport cafe and puttering in the shop. A meticulous craftsman, Bob took pride in anything he built, which included two houses, an amphibious experimental aircraft, a half-dozen commercial greenhouses, a couple of kayaks and other, smaller projects too numerous to mention. While he was always pleased with the results of his handiwork, it was the planning and measuring and building and tinkering that gave him greatest joy. According to his family, Bob loved telling and listening to a good story, especially during his regular Sunday-morning breakfasts with friends Joe and Dick. When his blue eyes twinkled and a mischievous grin appeared on his face, you knew a practical joke or humorous quip was soon coming. He was an easygoing, friendly man who never took himself too seriously. He had a good life and will be deeply missed.

The family would like to thank the staff of San Juan Villa for taking such good care of Bob during his last year. In lieu of a service, the next time you hear a small airplane fly overhead, think about Bob and smile.