Robert Park 'Bob' Biffle obituary
This information is from the Moscow-Pullman Daily News website.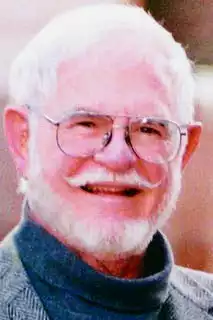 Photo: Robert Park 'Bob' Biffle
In the early morning under a full moon June 23, 2013, Robert Park "Bob" Biffle's soul took flight. He died at home with his daughters by his side and his cats on his bed.
Bob was born in Lewistown, Mont., on March 22, 1923, to Chauncey Park and Josephine Louise (Howell) Biffle. Joined by little sis Marilyn, the family lived principally in Baker and Miles City. Bob was a 1941 graduate of Custer County High School.
Bob served in the Army in the Pacific during World War II in the 153rd Engineer Battalion. After the war, he attended the University of Chicago on the G.I. Bill; it was there he met the love of his life, Mary Elizabeth "Bette" Taylor, a student at Northwestern University Medical School.
They married in 1950, and after a stint in Denver made their first home in Pueblo, Colo., where their three children were born. Bob was eager to bring his family to Montana, and in 1958, they moved to Great Falls, where he was employed at Wenzel Engineering Company. An active member of the Episcopal Church of the Incarnation, he particularly loved singing in the choir. A proud liberal, he was a committed supporter of racial integration, the "fair housing movement" and other efforts for the common good in the 1960s.
Before fitness became a craze, he rode his three-speed bicycle to work; and before anyone marketed running shoes, he jogged in his hiking boots. He enjoyed taking the family hiking (particularly in Glacier National Park) and camping (at Woods Lake near the Bob Marshall Wilderness and at Jefferson Creek in the Little Belt Mountains).
From an early age, Bob loved airplanes - the margins of his grade school notebooks are decorated with sketches of them. Although he never enjoyed the luxury of being a pilot, after retirement he logged millions of miles on his computer flight simulator and never tired of telling family and friends where he had "flown" recently. He kept meticulous logs of every flight.
His other love was sailing. In his first wooden boat, the Nonesuch, he spent many pleasant summer days with family and friends on Canyon Ferry Reservoir in Montana. After he and Bette moved to Port Townsend, Wash., in 1977, he enjoyed his second boat, the Kah Tai, in the brisk winds of Admiralty Inlet and on the Strait of Juan de Fuca.
There, before retirement, he enjoyed designing custom homes and remodels. He ran in every Rhody Run until he was into his 70s. He and Bette were familiar figures - into their 80s - working out in a local fitness center. Together they enjoyed films (and popcorn!) at the Rose Theatre, car trips around the country and pampering a series of beloved cats.
Bob was a gifted artist and mapmaker, and he contributed maps and pen-and-ink illustrations to City of Dreams: A Guide to Port Townsend, edited by Peter Simpson. He also designed the gazebo at Chetzemoka Park in Port Townsend and a shoulder patch used for years by the Port Townsend Police Department.
His daughters remember him for his intelligence, his passions on behalf of "the underdog" and his deep love for his family. He encouraged his children to hone their gifts and enjoy life - even as it dealt challenging surprises. He was always ready for a good martini, a highland single malt scotch or a dark beer.
After a stroke disabled Bette, they moved to Moscow, Idaho, in 2009, where Bob made his last home with his daughter. After Bette's death in 2011, although sad and largely homebound, Bob continued to enjoy the BBC and PBS, journeys on his flight simulator and listening to baroque music (especially Bach), marches and bagpipes. His health diminishing, he exercised by marching in place to Sousa, and still later by "conducting" the band from his recliner. In the last months of his life, debilitated by pain, he nonetheless enjoyed new family members Pat and Sam, much-loved kittens who, even as he was dying, kept vigil on his bed for days.
Bob is survived by his loving and grateful children, the Rev. Robin Biffle of Moscow, Kristine (Randy) Rudin of Spokane and Allen (Jill) Biffle of Chicago. Also surviving are grandchildren Adam Biffle, Renata Friedman, Leif Biffle, Isaac Biffle, Holley Glodowski and Micah Biffle; two great-grandchildren; and four nieces. He also cherished, in particular, his adopted sis, Pat Freebury; friends Michele Bailey, Phil and Izzy Manley, Teri Mielke and Kathleen Mitchell; and special caregiver at the end of his life, Mindy Johnson. His daughters are particularly grateful for the care given him by Dr. Stephanie Fosback and Cheryl at Palouse Medical; Joanne, Megan and Tracy at Marketime Pharmacy; and to Gentiva Hospice for making it possible for him to die at home.
Bob's ashes will be interred next to his beloved "yellow rose of Texas" in the columbarium at St. Paul's Episcopal Church in Port Townsend later in the summer. At his wish, some also will be scattered in favorite places in Port Townsend and Montana.
Memorials are suggested to the Humane Society of Jefferson County, P.O. Box 845, Port Hadlock, WA 98339; to the Port Townsend Aero Museum, P.O. Box 101, Chimacum, WA 98325; to the Port Townsend Film Festival, P.O. Box 594, Port Townsend, WA 98368; or to an organization of the donor's choice - especially to those that benefit the common good, vulnerable animals, community bands or our amazing planet.